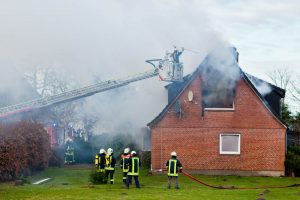 It is not always necessary to change the carpeting in your home after a small fire. It depends on the proximity of the fire, duration of exposure to smoke, and whether there is also resulting water damage. Below are a few ways to determine if replacement is the best option.
Does Insurance Pay for Carpet Replacement?
It can pay off nicely to check your home insurance policy after a fire in your Santa Barbara County home. You might be able to gain reimbursement for replacing carpeting and drapes that are heavily smoke damaged. Every policy and insurance company is different. Call your insurance carrier and find out the details.
Has mold developed in the carpeting?
California enjoys low humidity weather, but experiencing a fire in your home that requires the Santa Barbara County fire department putting it out with large amounts of water can set you up for mold growth. You may have no choice but replacing the carpet if mold begins to take hold and grow on the fibers. You will deal with the strong odor of smoke and the pungent smell of growing mold.
Is the carpeting light or dark?
It can be a nightmare trying to get and keep white or beige colored carpeting stain-free. The soot from even a small house fire leaves a black oily residue. Walking on the carpeting before cleaning can grind these particles deep into the fibers. Hiring the professionals at Harbor Environmental Group will give you the best chance of completely removing the smoke residue on your Santa Barbara County carpeting.
Always Change the Carpet Padding
It is nearly impossible to get heavy smoke smells out of carpet padding materials. To completely remove the smoke smell the carpet will need to be pulled up, the underlayment cleaned, sealed and new carpet padding installed. It is a tough job to do without expert assistance. Experienced technicians can handle this task quickly, clean the carpeting and have it reinstalled over new padding. Your home will begin to smell smoke-free.
Contact the smoke damage and fire restoration experts at Harbor Environmental Group today and find out of your carpet is salvageable. We serve the entire Santa Barbara County area.