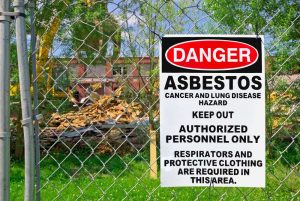 Given how much asbestos was used in the construction of homes and business in the U.S., it is no wonder many property owners in Orange County are asking themselves, "Is there asbestos in my building?"
Unfortunately, detecting the presence of asbestos in a building is not easy, and developing a plan for asbestos abatement is definitely a job for trained professionals with the right equipment and know-how. But what is involved in finding out if an Orange County building contains asbestos, and how do specialists determine if asbestos is present?
Inspecting for Asbestos in Orange County Buildings
Asbestos was used in a wide variety of ways during its heyday. Because of its fire-resistance, it was often sprayed onto ceilings and walls as an outer, flame-retardant coating. Asbestos was also commonly incorporated into pre-manufactured ceiling panels and was an ingredient in what is known as 'popcorn ceiling' texture which was sprayed on as a finish coat. Asbestos fibers were also added to the wall board joint compound, making the presence of asbestos dust a significant problem when repairing and remodeling an older building.
It was also common to wrap heating ducts and vents in asbestos, and it was used as an additive in many brands of linoleum flooring, roofing tiles, and exterior wall sheathing, making these products more durable and water resistant as well as fire-proof. Given that asbestos was used in so many ways, inspecting for asbestos in a building involves looking at the structure from top to bottom.
While it is possible to make an educated guess about which areas of a building contain asbestos, this fiber can only be reliably detected with a microscope by a laboratory technician with training in asbestos identification. There is also more than one kind of asbestos, and some types are more hazardous than others, making testing a job for those with the right training. Removing the sample for testing is also something best left to those with certification for handling this hazardous material, as simply taking samples can release dust and particles into the environment.
If you suspect your building may contain asbestos, leave the material undisturbed until it can be examined and tested in a laboratory by a certified specialist.
Harbor Environmental Group is a construction and demolition contracting firm with specialists trained in finding asbestos in Orange County buildings and then developing comprehensive and cost-effective solutions for asbestos abatement.
Southern California Coverage
Los Angeles County
Orange County
San Bernardino County
San Diego County