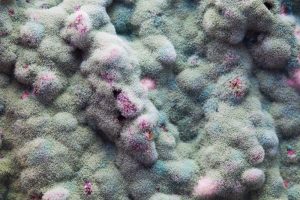 Problems with mold in Los Angeles County can happen in any season of the year, although winter rains and the leaky roofs, gutters, and windows those rains bring often make mold problems worse.
You may see signs of mold growing on basement walls, bathroom ceilings, behind appliances in the laundry room, under kitchen counters, on siding outdoors, or inside the garage. You can even have a mold problem without seeing any obvious signs or symptoms around your house, because mold can grow under the house in crawl spaces, behind walls, or in the attic, and the odor of mold may be the only thing present.
Finding Mold & Mildew in Buildings
Hundreds of species of mold are found in and around homes, and mold has its beneficial role in the environment, decomposing leaves, and other organic matter outdoors. However, certain types of mold growing inside a building can lead to a variety of health problems including asthma, bronchitis, headaches, and allergies, as well as create an unpleasant living or work environment.
When mold problems become serious, the help of a contractor with training and experience in mold remediation makes fixing the problem faster and makes the results more guaranteed and complete. Harbor Environmental Group is a licensed contractor specializing in jobs involving hazardous materials, including mold remediation in Los Angeles County.
When you contact Harbor Environmental for a consultation about mold remediation for your Los Angeles County property, you can expect a full evaluation of your home or business for the presence of mold, an assessment of the risk level posed by the mold, and options for cost-effectively and quickly fixing the problem.
Harbor Environmental Group's mold remediation services in Los Angeles County include:
Inspection of mold and the source of moisture causing it,

Repair of walls and other building structures to eliminate mold, as needed,

Chemical treatment of moldy surfaces, when advisable,

Third-party certification, if required,

Testing for complete removal of mold at the end of the job,

Filing mold repair related insurance claims,

100 % customer satisfaction with results.
If you own a Los Angeles County property and you have problems with mold, contact Harbor Environmental Group and find out about the solutions for cleaning-up and eliminating both the mold and the source of moisture creating the mold.
Harbor Environmental is specially equipped as a hazardous materials contractor who can eliminate your mold problem and make all the necessary repairs to keep mold from becoming a problem again.